Strictly star gives Marlborough School a '10 from Len'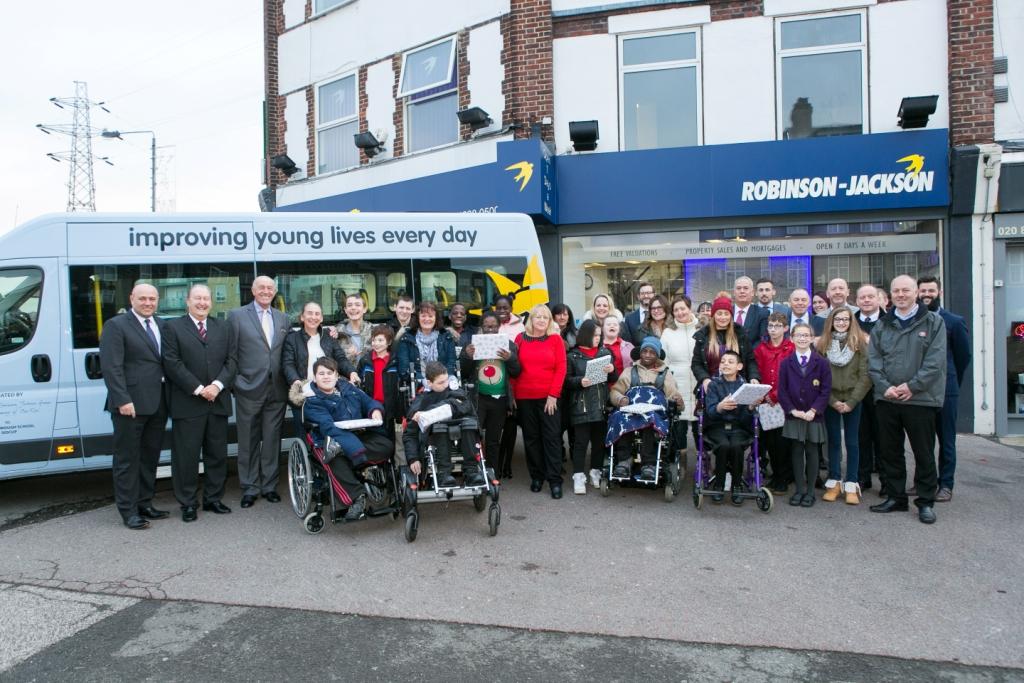 TV star Len Goodman surprises Marlborough School community during branch visit.
A group of students and their parents from Marlborough School in Sidcup were greeted by a very special surprise guest during a visit to estate agent Robinson Jackson on Thursday 15th December. The students - who have severe, complex and physical learning difficulties - were welcomed to the office by the agency's co-founder Alan Robinson, his family and the Partners of Robinson Jackson. To their delight, Strictly Come Dancing's Head Judge, Len Goodman, was also on hand and promptly raised the cry 'seven' as he gave out presents.
The estate agent invited the students, their parents/guardians and teachers of Marlborough school to share in this extra special Christmas surprise as a thank you for the valuable work they undertake throughout the year. The branch visit was also a chance for the school to show off its Sunshine Coach, which was made possible thanks to sponsorship from Alan Robinson and the Partners of Robinson Jackson - all in memory of Ron Kennor, their General Manager, who lost his battle against cancer in 2015. The donation was made in tandem with the Variety Club Golf Society Sunshine Coach initiative, which Len Goodman and Alan Robinson are both supporters of.
Len Goodman commented: 'I grew up in the Sidcup area and, in fact, my first job was in a cafe around the corner when I was just 12, so it's great to come and support my friend's brilliant work! It came as no surprise that Alan asked me to help present the coach and meet with the students - it's typical of them to be helping out and involving themselves in the local community. Seeing the children from Marlborough School today has been fantastic. One of the girls screamed 'seven' as I walked down the stairs - always great to hear. The school and Robinson Jackson certainly get a 10 from Len!"
Jill Page, the TA Manager at Marlborough School, spoke of what the Sunshine Coach means to the school: "The coach allows students with complex needs, including some who exhibit highly anxious and challenging behaviour and therefore need a high ratio of staffing, to access the wider community safely.† The students attend events and undertake community learning activities as well as visit shops, parks, the local leisure centre and our allotment, all of which promote communication, and functional and independence skills. The coach also makes it possible for two classes to be able to go off site together providing further opportunities for social integration and inclusion."
Alan Robinson says the coach presentation to Marlborough School has become one of his personal highlights: "It has been a privilege to be involved with the Variety Club Golf Society and to support their amazing work for young people. This presentation is particularly special for me as Jill Page from the school is my cousin and has the biggest heart I know. The staff at Marlborough school face challenges every day while caring for the wonderful students, so it's great to donate something that will make their lives that little bit easier. It was lovely to enjoy today with everyone involved, including my grandchildren, who were equally as delighted to meet the students and, of course, Len. Today has really captured the 'giving' nature of Christmas."
All News ≫